Do you want to offer your employees a convenient way let you know they're sick using text message in order to make the calling-in-sick process easier for your business?
Calling in sick can be awkward for both the manager and employee. The employee might feel guilty because of it and the manager will now have to contact other employees for coverage. Take away that awkwardness by allowing your employees to TEXT in sick instead.
There are few things that you need to know before you get started...
Texting in Sick via TXTImpact
A text confirmation is important. Make sure the manager receives the text-in report immediately.
The text report will be stored for the future reference.
To implement the text-in sick texting service, you can use TXTImpact's Text to Email service.
You can have a dedicated phone number to receive text messages, no keywords are required.
We can also text enable your existing business landline or toll-free number.
Text messages will be forwarded to the location manager(s) email address(es).
Text message will be stored in the cloud for the future reviews.
Auto response message can be sent once someone text a message.
Managers can reply from their email account directly and the reply goes back as text message to the employee.
This is how it would look for the employee.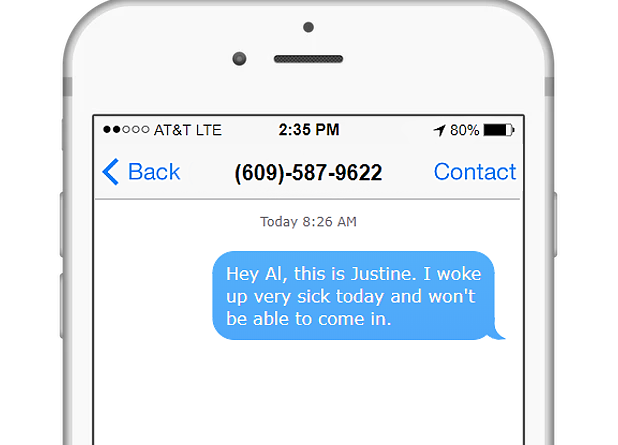 As stated before, you can either queue an automatic response for all texts to this number or, if you decide, text back manually.
Here's what that would look.